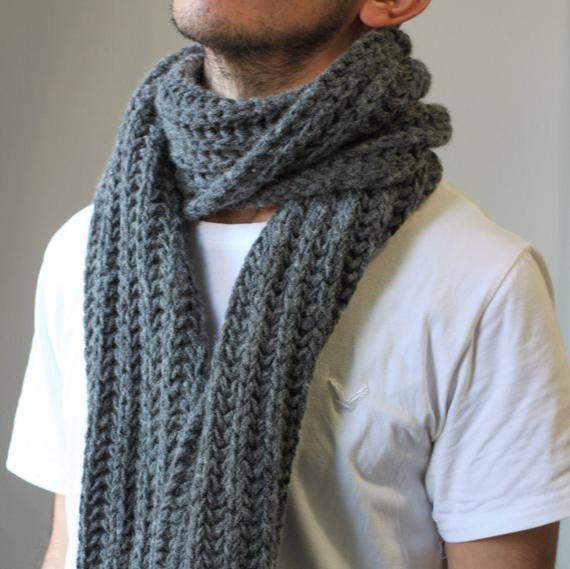 The winter is approaching soon, and you must have been thinking about what to wear to work or college. You don't want to compromise on that good look for BIG and bulky clothes, do you? Yes, you may look the exact same as the word "BuLkY". And you can't only be focusing just on fashion too because it's COLD! So what should you do?
The goal is to both feel warm and look hot. There are several ways to do that. But there's one piece of cloth that can never go wrong- Mufflers. Yes, you read that right. Mufflers can greatly enhance the way you look. You need to choose a perfect muffler and wear it the right way. So. in this article, we will discuss the benefits of wearing a Muffler.
Why is Muffler a Must-Have Winter Accessory?
1. It Looks Good
The first thing wearing a muffler does is add class to your attire. However, make sure you have a good quality muffler to match your attire. You can go for a woolen muffler which adds both warmth and class to your outfit.
Wearing a muffler in formal attire like blazers gives the classical winter look. You need to drape the muffler around your neck and let it fall untied equal on both sides.
With sweatshirts and high necks, wrap them around your neck a couple of times, and you are good to go.
Similarly, you can make a Parisian tie to wear with jackets. Let the tail of the muffler go inside the jacket. This look doesn't just look classy but also gives warmth around your neck.
2. Keeps You Warm
Wearing a muffler obviously makes you warm. The neck and chest are the most vulnerable parts to cold, and covering them with a muffler protects them from getting cold.
Preferably a woolen muffler blocks wind from getting into the chest. And if you ride a two-wheeler, covering your chest is a must. And if you are wondering where you can get a good muffler, Woolmandu has one of the best collections of woolen mufflers in Nepal. So, get a muffler and save your tonsils.
3. Protects Your Skin
During the winter, we often sunbathe and love staying in the sun. But it has its consequences. Staying in the sun for a longer period of time without proper protection can burn the skin.
Not just that, the harmful UV rays in the sunlight can even cause skin cancer. So we have to be careful not to get sunburned. Not just sunscreens but covering your skin is a must before you walk out on a sunny winter day. Wearing a muffler covers your neck and skin and saves you from getting sunburned.
4. Helps to Get Relief From Neck Pain
Yes, it might sound strange, but wearing a muffler does help get relief from neck pain. How? Because it holds your neck firmly and contributes to keeping your neck in the right posture.
Similarly, it also provides warmth to the neck muscles and blood vessels and helps to maintain the temperature of the body. This way, you won't hurt your neck muscles even while sitting on a desk all day.
5. Affordable
Another thing to love about mufflers is their price. These beauties are super affordable, and you can easily get them offline or online. You can get good quality woolen mufflers at super affordable pricing from Woolmandu. Do check them out if you are looking for one.
And if you don't like buying, you can ask your mom or grandma to knit one for you. Wait, how about learning that yourself? Yes, you can easily learn to knit handmade mufflers yourself. This way, you can learn a skill, save money and give your mufflers a personal touch. Isn't that awesome?
6. For Everyone
Mufflers don't discriminate. They literally suit everyone. Male, female, kids, adults, everyone can wear mufflers, and they are for everyone. Everyone can look good and feel comfortable in mufflers.
And the fact that you don't need to know what size someone needs can be a great thing to gift your loved ones. They are super affordable, cute, and versatile option to pack as a present.
7. Comfortable
Just like they look, woolen mufflers are super soft and furry. It almost feels like a cute furry animal cuddling with our necks. The warm and touch sensation makes the wearer feel super comfortable when wrapped around the neck, especially in the winter season. Also, the comfort they provide is one of the advantages of having a muffler in attire.
Bonus: They Are Always on Trend
Woolen mufflers can never go out of fashion. They are an evergreen fashion element that will look good on you every time you wear them. And with the different styles, textures, and patterns, they are super stylish add-ons to have during the winter season. This thing alone makes wearing a muffler with winter attire a no-brainer.
You can get stylish Made in Nepal mufflers at a discounted rate from Woolmandu, which specialize in woolen clothing and even has been exporting its products internationally.
Verdict
This article discussed the advantages of wearing a Muffler in winter attire. Mufflers are many people's go-to accessories during the winter days. They add class and are great protection against the winter breeze. Their easy availability and affordability have given people a way to elevate their look without spending a huge amount.
In Nepal, mufflers aren't just textiles but a culture. The tradition of mothers and grandmothers knitting sweaters and mufflers for their children has been passed down from generation to generation. The woolen mufflers also have nostalgia hidden deep inside their threads.
However, nowadays, the Nepali market has been hugely dominated by imported products. We can see cheaply made, low-quality mufflers with high price tags. This is where Woolmandu comes in.
We provide high-quality Made in Nepal woolen products at reasonable prices and are even exported worldwide. So, this was it for the Benefits of Wearing a Muffler.