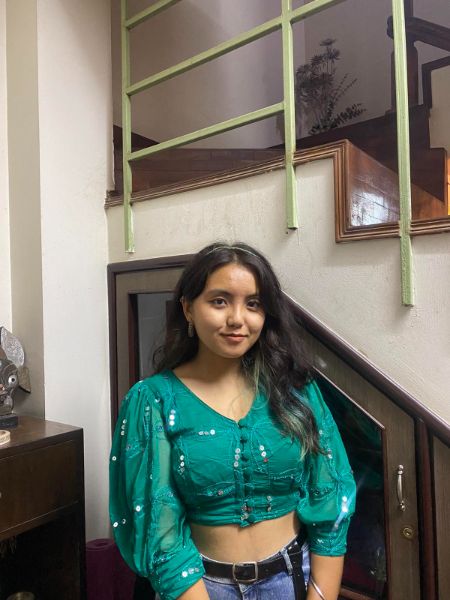 Nitya Gurung is a striving fashion designer who believes that designing is more about the art and creativity that comes through the mix of things. The face of fashion has been changing when we talk about the Asian continent, especially Nepal. With globalization, there are a lot of opportunities for budding fashion designers if they have the hunger to make it work.
For many new fashion designers in the market of new designs, a lot of them have been inspired by Prabal Gurung. The talented fashion designer has been able to stand out from the rest. This has burned a new fire in Nitya, who wishes to make a name for herself and also the country in the future days. It will not be an easy task, but Nitya Gurung is born for the challenges.
Nitya Gurung has always proved that she is worth the time and respect. With the attitude to bring a change in the map of fashion, Nitya has been thinking differently since the day she started her fashion designing career.
What separates her from the rest of the pack is that she is willing to add handicrafts to the fashion design. A new thought to get the best of what is present around her. Nitya, in her heart, knows that Nepal can be known for the addition of handicrafts angle to fashion which is not a huge surprise.
Also Read: Samina Bajracharya: Know the Aspiring Designer Better
Her vision and the step-wise execution will relocate the hidden gems from the Nepalese societies. Nitya Gurung is foresighted and knows what she is doing with her career.
This positive mindset will surely aspire to the upcoming breed of fashion designers. Being a fashion designer, according to Nitya, is not an easy task. Still, if you are absolutely willing to turn your passion into a livelihood, there is nothing in the world that will remain tough for you to achieve. Working hard, belief in the process, and the results will follow the mantra for Nitya.
In all of this sparkling lady's fashion designing vision, we found some time to do a short and sweet Q and A session with Nitya. Her answers were honest, and it meant that she was bound for the sky-high glory. Let's indulge in the queries and their thoughtful answers from Nitya Gurung.
Q and A session with Nitya Gurung
What do fashion and design mean to you?
I think fashion is an art, and our body is a canvas, but basically, fashion is an ongoing trend. For me, fashion designing is a creation of new ideas and also the visual representation of how a creative designer is.
What led you to pursue this career?
Love for fashion, art, new creation, and colors.
Who is your fashion/inspiration/favorite brand/designer or particular style?
My greatest inspiration is Prabal Gurung. I used to admire his designs since I was 15, and the main thing that inspired me was him being Nepali and doing so great in the fashion industry. Likewise, I don't have any favorite brand, but I love street-style fashion very much.
What are your long-term goals in fashion design?
I want the world to know the beauty of handicrafts in the fashion industry. In like manner, I would love to work on sustainable and handcrafted fashion.
Can you talk about some of the projects you have worked with?
I've worked with Samsara creation which supports handcrafted, recycled, and sustainable fashion. I also did my work on my graduation show, Mr and Miss Nepal Hospitality, in 2019. What adds value to my work CV is the work with Nepal Idol season 1 and Miss Supranational Nepal 2019.
Adding into the places or projects, I have worked with, there was a pleasure in interning at Everest Fashion. It is known as one of the largest handicrafts industries in Nepal.
What led you to work with Woolmandu?
The biggest reason for working with Woolmandu is due to its ethics. Woolmandu is known to support sustainable and eco-friendly fashion, which attracted me to work with this company.
Tell us a bit about your time with woolmandu.
Associating with Woolmandu has been fun and interesting. I got the chance to learn many things about natural fibers, markets, and the differences between natural and man-made fibers. It's fun working with Woolmandu because I get to explore my ideas in my own way, and I get to play with designs and colors as well.